JOE MEEK
---
Ausgewählte Joe-Meek-Produktionen in Notenausgaben 1960
Selected Joe Meek productions in sheet music editions 1960
Komponist/Texter, Titel; in Klammern Interpret, Firma und Produktionsdatum der von Joe Meek produzierten Einspielung. Die Wiedergabe der Noten an dieser Stelle ist aus urheberrechtlichen Gründen leider nicht möglich.
Composer/lyricist; in parentheses singer, company and date of the recording produced by Joe Meek. Unfortunately, due to copyright reasons it's not possible to reproduce the scores here.
[ Intro | 1960 | 1961 | 1962 | 1963 | 1964 | 1965 | 1966 ]
Joe Menke / Mario Panas (= Leo Leandros) / Tobby Lüth / Marcel Stellman: Be Mine (Lance Fortune, pre-Triumph, 01-1960)
Be Mine ist die Coverversion eines deutschen Schlagers names Alle Mädchen wollen küssen. Der englische Text stammt von Marcel Stellman. Mehr über die Geschichte dieses Stücks hier.
Be Mine is the cover version of a German schlager entitled Alle Mädchen wollen küssen. The English lyrics were written by Marcel Stellman. More info on the story of this tune here.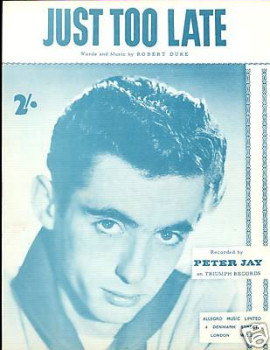 Robert Duke (= Joe Meek): Just Too Late (Peter Jay, Triumph, 02-1960)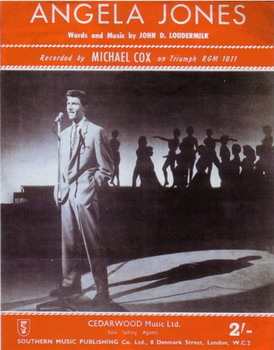 John D. Loudermilk: Angela Jones (Michael Cox, Triumph, 05-1960)
Len Praverman: Don't Want To Know (Michael Cox, Triumph 05-1960)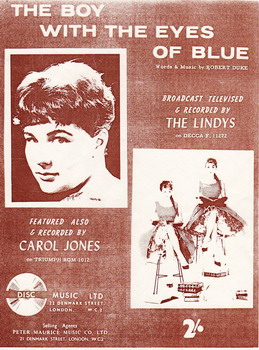 Robert Duke (= Joe Meek): The Boy With The Eyes Of Blue (Carol Jones, Triumph 06/07-1960)
Dieses Stück wurde geschrieben von Joe Meek. Eine Version wurde von The Lindys für eine Fernsehserie eingespielt. Eine andere, von Meek selbst produzierte Aufnahme mit Carol Jones sollte im Juli 1960 auf Meeks eigenem Label Triumph Records unter der Katalognummer RGM 1012 erscheinen. Da Meek aber zu diesem Zeitpunkt seine Firma bereits ad acta gelegt hatte, wurde die Aufnahme von seinem Nachfolger, dem Produzenten Johnny Keating, neu produziert und erschien unter derselben Nummer mit anderer B-Seite einen Monat später. Mehr hier.
This tune has been written by Joe Meek. One version has been recorded by The Lindys for a TV series. Another version was produced and recorded by Joe Meek with Carol Jones which was planned for release in July 1960 under the catalogue number RGM 1012 on Meek's own label Triumph Records. Because Meek had given up the company at that time, his successor Johnny Keating produced a re-recorded version which was released under the same number one month later. More here.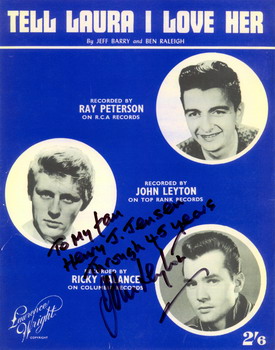 Jeff Barry/Ben Raleigh: Tell Laura I Love Her (John Leyton, Triumph/RGM 08-1960)
John Leyton fiel mit seiner Coverversion des US-Hits von Ray Peterson gleich zweimal unter den Tisch: Für die ursprünglich geplante Veröffentlichung auf Meeks eigener Plattenfirma Triumph Records war es knapp zu spät. So wurde die Platte auf Top Rank veröffentlicht, doch kurz darauf wurde das Label an EMI verkauft, wobei diese Single unterging, da EMI bereits mit einer anderen Fassung auf dem Markt war. Tatsächlich also ist Leytons Tell Laura I Love Her, wenn überhaupt, nur sehr kurz im Handel gewesen. (Mehr Info über die Triumph-Story hier.)
John Leyton fell flat twice with his cover version of Ray Peterson's US hit: It was too late for the planned release on Meek's own record company Triumph Records. So the record was released on Top Rank, but the label was sold to EMI shortly after, and so this single went down because EMI had an own version out already. In fact, Leyton's Tell Laura I Love Her was available only for a very short time, if at all. (More info on the Triumph story here.)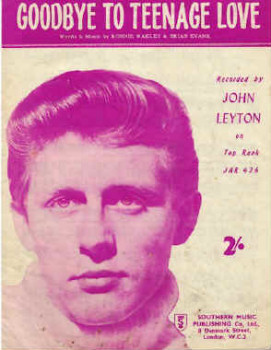 R. Wakley/B. Evans: Goodbye To Teenage Love (John Leyton, Meek 08-1960)
Als Meek diese Platte produzierte, hatte er seine Firma Triumph bereits verlassen, die Nachfolgefirma RGM Sound aber noch nicht gegründet.
When Meek produced this record, he had already left his company Triumph but didn't founded yet the successing company RGM Sound.
Vic Smith: Ricky (Pat Reader, Triumph 08-1960)
Eine Triumph-Produktion, die bereits unter der Ägide von Meeks Nachfolger Johnny Keating stattfand.
A Triumph production, but made already under the aegis of Meek's successor Johnny Keating.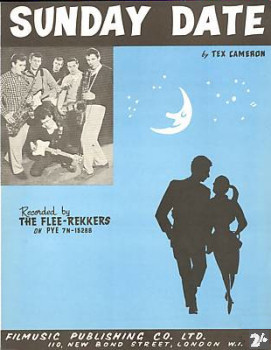 Tex Cameron: Sunday Date (The Flee-Rekkers, RGM 09-1960)
Robert Duke (= Joe Meek): Paradise Garden (Peter Jay, RGM, 09-1960)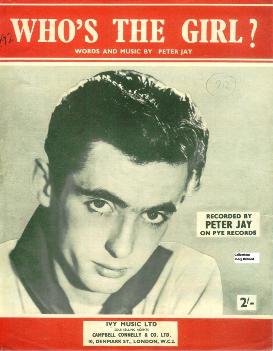 Peter Jay: Who's The Girl? (Peter Jay, RGM 09-1960)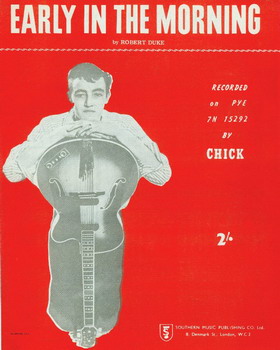 Robert Duke (= Joe Meek): Early In The Morning (Chick w. Ted Cameron Group & The DJ's, Triumph 09-1960)
"Chick" übrigens heißt im wirklichen Leben Brian und ist der ältere Bruder von Joy und Dave Adams.
"Chick", by the way, in real life is named Brian; he's the elder brother of Joy and Dave Adams.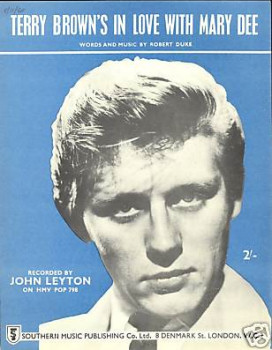 Robert Duke (= Joe Meek): Tery Brown's In Love With Mary Dee (John Leyton, RGM, 10-1960)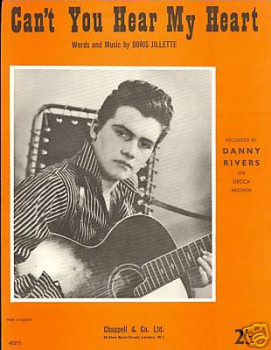 Doris Jillette: Can't You Hear My Heart (Danny Rivers, RGM, 11-1960)
[ Intro | 1960 | 1961 | 1962 | 1963 | 1964 | 1965 | 1966 ]
---
Abbildungen / Pictures: Harald Bluschke, Thomas Meyer, Jörg Richard, Henry J. Jensen, John Leyton; Rock'n'Roll-Schallplattenforum
---
[Home] [Joe Meek Portrait] [Complete Recordings] [Meek Compositions] [Goddard Compositions] [Triumph Story] [CD Discography] [Noten/Scores] [Telstar Cover Versions] [Meek in Germany] [Literature, Documentaries etc.] [Miscellaneous] [Links] [About] [Contact] [Sitemap]
---
© 2006 Jan Reetze
last update: May 4, 2010