JOE MEEK
---
Geoff Goddard: Brief portrait and list of compositions (1/2)
(

hier!)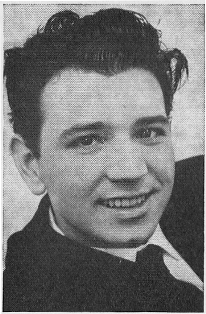 Geoff Goddard, 1963
(Photo: "Hobbies Weekly", May 1963)
Joe Meek had 25 hits in the British Top 40 during his times as independent producer. Nine of them were written by Geoff Goddard, who - besides Dave Adams - was Meek's most important and closest companion for nearly five years. Further five songs Meek and Goddard penned in collaboration. Meek's first #1 hit, Johnny Remember Me, was a Goddard tune as well as Just Like Eddie and Tribute To Buddy Holly.
Geoffrey Goddard, born November 19, 1937 in Reading, Berkshire, sang in the local church choir as a child, later he studied piano and viola at the Royal Academy of Music. But he decided not to go into the classical music scene. He knew he would have to compete then against the likes of Gould or Rubinstein, and he was prudent enough to see that they belonged to a different league.

At the end of the 1950s, after his military service, Goddard gigged as bar and hotel pianist for 6 Pounds per weekend. His attempts to sell a couple of his compositions to music publishers in London failed but brought him into touch with Southern Music managing director Bob Kingston who recommended him to Joe Meek as pianist. Meek first intended to name him "Anton Hollywood" and establish him with candelabra on the piano as a kind of "Liberace of Reading". But it didn't take long for him to realize that the stage was not Goddard's world. A critic compared him to Harpo Marx; Goddard's way of playing reminded charmingly to a silent movies pianist, besides this he made strange grunting noises and used to stomp his feet while playing.
When Meek heard the first instrumental composition Goddard had written (Lone Rider), he immediately knew that this was Goddard's real talent; in the summer of 1961 Meek recorded the tune with The Flee-Rekkers. Later Goddard added lyrics to the melody, the song was released in spring 1962 with singer John Leyton. Goddard had the ability to write simple and catchy pop songs; that was his strong point, as everybody who ever heard them will confirm. And they finished his being in low water: The two songs alone he had written for John Leyton brought him circa 8,000 Pounds (today this would be around 300,000 Pounds, 350,000 Euros or 460,000 US Dollars), and there was more to come.
Because of his classical training, Goddard was - for pop music's standards - also a very good instrumentalist, and so he became a permanent in-house musician at Meek's studio. When between 1961 and mid-1964 there's a piano in a Meek production, in all likelihood it was Goddard pressing the keys. Most prominently he appears in Telstar. Here Goddard not only provided the piano arpeggios, he also played the complete melody voice on the Clavioline (a remarkably precise triple overdubbing in two octaves), and it's his voice coming up in the last part of the tune. (More info on the production of Telstar see here.)
Not only in this respect Meek and Goddard were like-minded souls: Both of them were dedicated followers of spiritism and occultism. In this quirk Goddard probably even outdid Meek. His first contact to a mentalist became a formative moment for the 23-year-old because this lady brought him into touch with the late Buddy Holly. Goddard never forgot this experience. He was deadly serious about séances after that, he intended to have classes at the Society for Parapsychology to become a trained medium, his fascination for death songs and spooky, otherworldly topics was at least in par with Meek's. Already his first song, the mentioned Lone Rider, was a story about a sort of Flying Dutchman on the motorbike, and in press interviews he revealed that the inspiration for Johnny Remember Me came from the other side. John Leyton who had a #1 hit with this song was not just too happy about being connected with things like that.
The connection between Goddard and Meek ended in an ill-fated way that couldn't be more typical for Meek: Goddard filed a lawsuit against songwriters Ken Howard and Alan Blaikley for plagiarism. They had written the song Have I The Right which was a world wide smash hit with The Honeycombs in 1964, and he was sure that these two guys had lifted their song from the composition Give Me The Chance he had written with Meek. Meek, however, under all circumstances wanted to keep Howard and Blaikley, so he made clear that in a lawsuit he would take sides with them. Goddard saw no chance then to prove his position at court. So he withdrew the action but didn't even talk to Meek anymore after this. (No demo tape is known, so it is not possible to decide whether Goddard was right with his suspicion. But this can be said safely: He must have been very sure about it.)
Finally in 1965, Meek - unable to to realize or even to see his own erratic behavior - started characterizing Goddard's songs as antiquated and told him to go to hell with that old-fashioned stuff. Goddard was cut to the quick, considered the matter closed and never returned to Meek's studio.
After Joe Meek's death, Goddard teamed up with Cliff Richard for a short time. His song My Head Goes Around was released on Richard's album "Tracks 'n' Grooves" in 1969, but it remained his last published tune. Goddard didn't get on with Richard's producer, and in 1972 he finished his career as a musician.
He went back to Reading, his native city, and found a job there at the university: as a cleaner in the canteen. This decision may be hard to get, but he did it consciously and by choice; nobody ever heard him complaining about his situation. He was not really cagey about his former life, he was happy if somebody knew him or remembered his songs, but he never wanted to have to deal again actively with the professional music scene.
Goddard was a shy and reserved person. Why Nick Moran's movie "Telstar" from 2008 portrays him as a sort of complete moron is the director's secret; we can be sure that this is strongly exaggerated. But besides this, nearly nothing is known about the private Geoff. His relatives are not willing to give any information about him or his life.
At least, unlike several other Meek artists, Goddard never fell into poverty: His composition Jungle Fever sold several million copies all over the world as the flip side of the Telstar 45. From time to time he received further royalties, not least from his composition on the Cliff Richard album. Also Just Like Eddie brought him money again when the tune was spoofed for a TV commercial: Just Like Shreddies. And in 1985 his composition Johnny Remember Me was covered by Marc Almond & Bronski Beat, sold again 300,000 copies and reached the Top 10 - and much to his surprise, Goddard, who had given up following the pop charts long ago, received a platinum record.
Geoff Goddard passed away from heart failure on Mai 15, 2000 in Reading at the age of 62.

Geoff Goddard, circa 1990

with John Leyton, circa 1995
(Photos courtesy johnleytonofficial.com)
Next page: Chart of Goddard's compositions >>
---
[Home] [Joe Meek Portrait] [Complete Recordings] [Meek Compositions] [Goddard Compositions] [Triumph Story] [CD Discography] [Noten/Scores] [Telstar Cover Versions] [Meek in Germany] [Literature, Documentaries etc.] [Miscellaneous] [Links] [About] [Contact] [Sitemap]
---
© 2006 Jan Reetze
last update: Dec 23, 2010