JOE MEEK
---
CDs - Seite 1 / Page 1
Interpreten (alphabetisch) / by order of artists
Auf diesen Seiten geht es um Joe Meek auf CD.
Eine Übersicht über Joe Meeks gesamte Aufnahmen finden Sie hier.
These pages are about Joe Meek on CD.
An overview on Joe Meek's complete recordings is to be found here.
Tracklisting und weitere Info: Bitte klicken Sie auf das Cover
Tracklisting and further info: Please click on the cover
[ Weiter auf Seite 2 / More on page 2 ] | [ Weiter auf Seite 3 / More on page 3 ]

Dave Adams: Joe Meek Collection - The Dave Adams Story
GB 1998, 1 CD. Diamond Records GEMCD 013

Cliff Bennett: The Best Of The EMI Years
GB 1992, 1 CD. EMI Records CDEMS 1450 (0777 79943623)
Mike Berry: Sounds Of The Sixties
GB 1992, 1 CD. Castle Records CHC 7056 CR

Mike Berry: Don't You Think It's Time
GB 2003, 2 CD. Sanctuary/Castle Records CMEDD 811

Charles Blackwell & His Orchestra: Those Plucking Strings
GB 2006, 1 CD. RPM Records RPM 310

Carter-Lewis: The Carter-Lewis Story
GB 1995, 1 CD. Sequel Records NEX CD 234

John Carter: Measure For Measure
GB 2008, 2 CD. RPM Records RPMD 268
Neil Christian: That's Nice
GER 1992, 1 CD. Repertoire Records REP 4164 WY

Neil Christian: Neil Christian & The Crusaders 1963-1973
GB 1992, 1 CD. See For Miles Records SEEC 342

Glenda Collins: Been Invited To A Party - The Singles Collection 1963-1966
GB 1990, 1 CD. Conoisseur Records CSAP CD 108

Glenda Collins: This Little Girl's Gone Rockin!
GB 1997, 1 CD. RPM Records RPM 182
Michael Cox: The Joe Meek Story, Vol. 4 - The Best Of Michael Cox
GB 1993, 1 CD. Sequel Records NEX CD 243

Michael Cox: Angela Jones
GB 1999, 1 CD. Zircon Records Zirc 1005

The Dowlands: All My Loving
GB 1993, 1 CD. Diamond Records GEM CD 026

The Flee-Rekkers: Joe Meek's Fabulous Flee-Rekkers
GB 1991, 1 CD. See For Miles Records C5 CD 564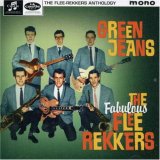 The Flee-Rekkers: Green Jeans
GB 2006, 1 CD. Castle Records CMQCD 1435
Emile Ford And The Checkmates: same
GER 1991, 1 CD. Repertoire Records RR 4097-WZ

Billy Fury: The EP Collection
GB 10/1989, 1 CD. See For Miles Records SEECD 59
Heinz: Tribute To Eddie
GER 1993, 1 CD. Castle Records CLC 5117

Heinz: Tribute To Eddie
GB 1994, 1 CD. Rollercoaster Records RCCD 3008

Heinz: Dreams Do Come True - The 45's Collection
GB 1994, 1 CD. Castle Records CLC 5134-2

Heinz: The Complete Heinz
HUN 1994, 1 CD. Rockin Box RIB 027

Heinz: Just Like Eddie
GB 1995, 1 CD. Hallmark Records 300302

Heinz: The Complete Heinz
GER 1999, 2 CD. Repertoire Records REP 4718-WR

Heinz: Just Like Eddie - The Heinz Anthology
GB 2007, 2 CD. Castle Records CMEDD 1460

Heinz: Tribute To Eddie
JAP 2008, 1 CD. AMR Records AIRAC 1400
[ Weiter auf Seite 2 / More on page 2 ] | [ Weiter auf Seite 3 / More on page 3 ]
zurück/back | Various Artists (Zusammenstellungen / Compilations)
---
Abbildungen/Pictures: Sammlungen/Collections Harald Bluschke, Thomas Meyer und Jan Reetze
---
[Home] [Joe Meek Portrait] [Complete Recordings] [Meek Compositions] [Triumph Story] [CD Discography]
[Noten/Scores] [Telstar Cover Versions] [Meek in Germany] [Literature, Documentaries etc.]
[Miscellaneous] [Links] [About] [Contact] [Sitemap]
---
© 2006 Thomas Meyer, Jan Reetze
last update: Aug 08, 2008