JOE MEEK
---
Joe Meek - a Portrait
Part 11: I'm Going Now
(

hier!)
In the morning of Friday, February 3, 1967, Joe Meek, as his studio assistant Patrick Pink remembers, burned several letters and other documents in the bathtub and finally handed a note to him: "I'm going now. Goodbye." Pink, however, didn't understand this note's meaning.
For a while Meek messed around in the control room with some recordings he had made with Pink the evening before. Then he sent Pink for Violet Shenton, the landlady. When she arrived at the studio, Meek picked up a quarrel with her, as short-tempered as pointless, probably about the rent. Finally Meek shot his landlady with a shotgun. Mrs. Shenton fell down the stairs and landed in front of Pink's feet.
Meek receded into the control room, disappeared from Pink's sight and reloaded. A few seconds later Joe Meek turned the shotgun on himself.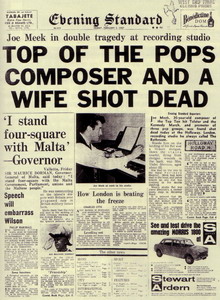 Evening Standard, Friday, February 3, 1967, evening edition
In all likelihood Meek had planned his suicide. When a couple of weeks earlier Meek had set up his will, he hinted that maybe he wouldn't be present much longer. And it was only a few days before February 3rd that he bought ammunition and placed it in the control room, along with the shotgun (since Heinz had moved out in 1965, Meek kept the shotgun under his bed; see chapter 6). Apparently he also called up a friend on Thursday night to ask him how to operate a gun like this. And, last but not least, there's the date - the 8th anniversary of the death of Buddy Holly. Would it really be imaginable that a fervent Buddy Holly fan like Joe Meek wasn't aware of that?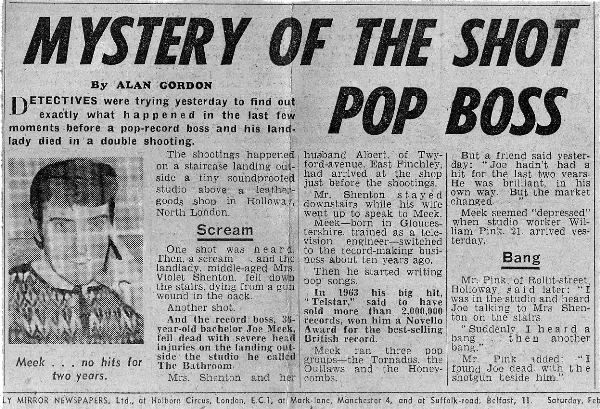 Daily Mirror, Saturday, February 4, 1967
Probably there will never be an answer why Meek shot his landlady. Usually the two of them were on good terms, so there's no reason to believe that taking her life was a planned act. Whatever it was, an accident or an irrational action: Her death is pointless and inexplicable - "Why he did this we don't know. He just did it", as the coroner said. Mrs. Shenton was survived by her husband and her daughter.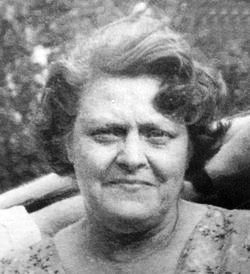 Violet Shenton, 1911-1967
Photo: private/Joe Meek Society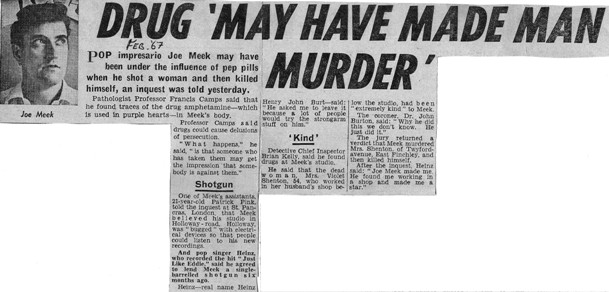 Daily Mirror, February 1967 (exact date unknown)
The police first interrogated Heinz Burt because he was the owner of the shotgun. Also Patrick Pink as the only (ear-) witness and suspect had to stand a six-hour police questioning before he was sent home. (The "goodbye kiss" between Pink and Meek, as shown in Nick Moran's "Telstar" movie, is completely fictitious.)
last update: Feb 6, 2014