JOE MEEK
---
Portrait Of A Genius: The RGM Legacy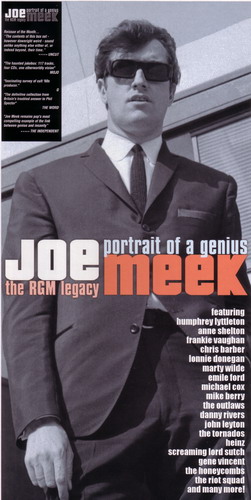 GB 2005, 4 CD-Box. Castle Records CMXBX 783
TT: 78'50 (CD 1), 78'53 (CD 2), 78'56 (CD 3), 78'28 (CD 4)
CD 1: Engineering The Hits, 1955-59
| Nr. | Interpret | Titel | Jahr |
| --- | --- | --- | --- |
| 01. | Meek, Joe | Monologue 1: Early History | 62-?? nv |
| 02. | Miller, Gary | The Yellow Rose Of Texas (*) | 55-09 |
| 03. | Miller, Betty | The Next Train Out Of Town (*) | 55-10 |
| 04. | Broonzy, Big Bill | It Feels So Good (*) | 55-12 |
| 05. | Miller, Gary | Robin Hood (*) | 56-01 |
| 06. | Hockridge, Edmund | No Other Love (*) | 56-04 |
| 07. | Lyttelton, Humphrey Band | Bad Penny Blues (*) | 56-06 |
| 08. | Graham, Kenny & His Satellites | Lullabye (*) | 56-?? |
| 09. | Shelton, Anne | Lay Down Your Arms (*) | 56-08 |
| 10. | Patterson, Ottilie w. Barber, Chris Jazz Band | Jailhouse Blues (*) | 56-09 |
| 11. | Vaughan, Frankie | Green Door (*) | 56-10 |
| 12. | Barber, Chris Jazz Band feat. Sunshine, Monty | Petite Fleur (*) | 56-11? |
| 13. | Donegan, Lonnie & His Skiffle Group | Don't You Rock Me Daddy-O (*) | 57-01 |
| 14. | Vaughan, Frankie | Garden Of Eden (*) | 57-01 |
| 15. | Delaney, Eric Band | Rock & Roll King Cole (*) | 57-02 |
| 16. | Donegan, Lonnie & His Skiffle Group | Puttin' On The Style (*) | 57-05 |
| 17. | Duncan, Johnny & His Blue Grass Boys | Last Train To San Fernando (*) | 57-07 |
| 18. | Miller, Jimmy & The Barbecues | Sizzling Hot | 57-09 |
| 19. | Seeger, Peggy w. Cameron, Isla & Carawan, Guy | Sail Away Lady (*) | 57-11 |
| 20. | Acker Bilk | Travelling Blues (*) | 58-04? |
| 21. | Preston, Mike | A House, A Car And A Wedding Ring (*) | 58-02 |
| 22. | Melly, George w. Mulligan, Mick Magnolia Jazzb. | There'll Be Some Changes Made (*) | 59-04? |
| 23. | White, Terry & The Terriers | Rock Around The Mailbag (*) | 59-05 |
| 24. | White, Terry & The Terriers | Blackout (*) | 59-05 |
| 25. | Wilde, Marty | Sea Of Love (*) | 59-09 |
| 26. | Preston, Mike | Mr. Blue (*) | 59-10 |
| 27. | Ford, Emile & Checkmates | What Do You Want To Make Those Eyes At Me For | 59-10 |
| 28. | Meek, Joe | Joe's Message To Dave & Dee | nv |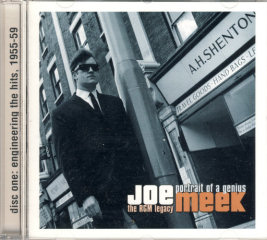 CD 1
CD 2: The Classic RGM Sound, 1960-62
| Nr. | Interpret | Titel | Jahr |
| --- | --- | --- | --- |
| 01. | Meek, Joe | Monologue 2: IBC, Triumph, RGM, Pye | 62-?? nv |
| 02. | Blue Men | I Hear A New World (excerpt) | 60-05 |
| 03a. | Blue Men (Joe Meek introducing) | Valley Of The Saroos (excerpt) | 60-03 |
| 03b. | Blue Men (Joe Meek introducing) | Magnetic Field (excerpt) | 60-03 |
| 04. | Jay, Peter & Blue Men | Just Too Late | 60-02 |
| 05. | Meek, Joe | It's A Triumph! (Radio Luxembourg Jingle) | |
| 06. | Chakiris, George | Heart Of A Teenage Girl | 60-04 |
| 07. | Cox, Michael | Angela Jones | 60-05 |
| 08. | Lewis, Chick | North Wind | 60-?? nv |
| 09. | Berry, Mike & Outlaws | My Baby Doll | 61-01. |
| 10. | Rivers, Danny & The Alexander Combo | Once Upon A Time | 61-05 |
| 11. | Rivers, Danny & The Alexander Combo | My Baby's Gone Away | 61-05 |
| 12. | Bennett, Cliff & Rebel Rousers | Try Once More | nv |
| 13. | Wayne, Ricky | Why Pretend | nv |
| 14. | Leyton, John | Johnny Remember Me | 61-07 |
| 15. | Cox, Michael | Sweet Little Sixteen | 61-08 |
| 16. | Dean, Billy | Ridin' The Rails | nv |
| 17. | Williams, Chris & His Monsters | Kickin' Around | nv |
| 18. | Outlaws | The Outlaws | 61-12 |
| 19. | Blue Men | Orbit Around The Moon | 60-03 |
| 20. | Outlaws | Husky Team | 61-12 |
| 21. | Blue Men | Entry Of The Globbots | 60-03 |
| 22. | Outlaws | Tune For Short Cowboys | 61-12 |
| 23. | Leyton, John | John, c'est l'amour | 61-12 |
| 24. | Charles, Don | Crazy, Man, Crazy | 62-01 |
| 25. | Starr, Lee & The Astrals | Walkin' With My Angel | nv |
| 26. | Moontrekkers | Dance Legless Russian | nv |
| 27. | Joy & Dave | Chahawki | 62-?? nv |
| 28. | Athenians | Bouzoukis | nv |
| 29. | Leyton, John | Looking For Someone (Who Wants Johnny?) (***) | nv |
CD 2
CD 3: Telstar And Beyond, 1962-63
| Nr. | Interpret | Titel | Jahr |
| --- | --- | --- | --- |
| 01. | Meek, Joe | Monologue 3: Holloway, Studio Gear | 62-?? nv |
| 02. | Meek, Joe | Telstar Demo (***) [Try Once More] | |
| 03. | Adams, Dave | Telstar Demo, 2nd stage (***) | |
| 04. | Tornados | Telstar | 62-08 |
| 05. | Davis, Billie | Don't You Knock On My Door | nv |
| 06. | Pete & The Boulevards | Lover Return | nv |
| 07. | Starr, Lee & The Astrals | Come Back To Me | nv |
| 08. | Pete & The Boulevards | You're My Girl | nv |
| 09. | Hollywood, Kenny | Magic Star | 62-12 |
| 10. | Meek, Joe | Globetrotter (***) | |
| 11. | Tornados | Globetrotter | 63-01 |
| 12. | Sands, Wes | There's Lots More Where This Came From | 63-03 |
| 13. | Sands, Wes | Three Cups | 63-03 |
| 14. | Checkmates | Interpol | nv |
| 15. | Screaming Lord Sutch & Savages | Roberta | nv |
| 16. | Carson, Chad | A Fool In Love | nv |
| 17. | Bailey, Burr & Six-Shooters | San Francisco Bay | 63-06 |
| 18. | Thunderbolts | March Of The Spacemen | 63-07 |
| 19. | Thunderbolts | Lost Planet | 63-07 |
| 20. | Heinz | Just Like Eddie | 63-07 |
| 21. | Cameos | Powercut | 63-08 |
| 22. | Ambassadors | Surfin' John Brown | 63-09 |
| 23. | Ambassadors | Big Breaker | 63-09 |
| 24. | Goddard, Geoff | Sky Men | 63-10 |
| 25. | Dean, Billy | Live It Up | nv |
| 26. | Vincent, Gene | Temptation Baby (from movie "Live It Up") | |
| 27. | Moss, Jenny | Please Let It Happen To Me (from movie "Live It Up") | |
| 28. | Dowlands | Lucky Johnny | 63-12 |
| 29. | Meek, Joe Orchestra | The Kennedy March | 63-12 |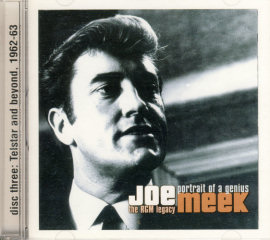 CD 3
CD 4: In Search Of A New Sound, 1964-66
| Nr. | Interpret | Titel | Jahr |
| --- | --- | --- | --- |
| 01. | Arlon, Deke & The Offbeats | I'm Just A Boy | 64-01 |
| 02. | Arlon, Deke & The Offbeats | Can't Make Up My Mind | 64-01 |
| 03. | Kane, Paul | My Fair Baby's Coming For Me | nv |
| 04. | Sabres | Don't Go Away | nv |
| 05. | Cameos | My Baby's Coming Home | 64-01 |
| 06. | Parker, Benny & Dynamics | I Taught Her How | nv |
| 07. | Puppets | Three Boys Lookin' For Love | nv |
| 08. | Honeycombs | Have I The Right | 64-06 |
| 09. | Honeycombs | Hab ich das Recht | 64-09? |
| 10. | Saxons | It Ain't Right | nv |
| 11. | Wells, Houston & The Masters | Little One | nv |
| 12. | Bennett, Cliff & Rebel Rousers | I'm In Love With You | 61-06 |
| 13. | Dangerfield, Tony & Thrills | She's Too Way Out | 64-09 |
| 14. | Strangers | My Suzanne | nv |
| 15. | Blue Rondos | Little Baby | 64-11 |
| 16. | Strangers | Shirley | nv |
| 17. | Heinz & Wild Boys | Don't Think Twice It's Alright | 65-04 |
| 18. | John, David & Mood | It's All Right | nv |
| 19. | London, Peter | I'm Your Lovin' Man | nv |
| 20. | Meek, Joe | Not Sleeping Too Well Lately (***) | |
| 21. | Cryin' Shames | What's News, Pussycat? | 66-02 |
| 22. | Bystanders | She Comforts My Sorrow | nv |
| 23. | Heinz | Movin' In | 66-06 |
| 24. | Cryin' Shames | Nobody Waved Goodbye | 66-06 |
| 25. | Birds Of Prey | City Lights | nv |
| 26. | Cryin' Shames | Let Me In | nv |
| 27. | Impac | Rat Tat Ta Tat | 66-11 |
| 28. | Cryin' Shames | Feels Like Loving | nv |
| 29. | Riot Squad | Gotta Be A First Time | 67-01 |
| 30. | Honeycombs | I Can Tell (Something's Up) | nv |
| 31. | Meek, Joe | Anrufbeantworter Meeksville | nv |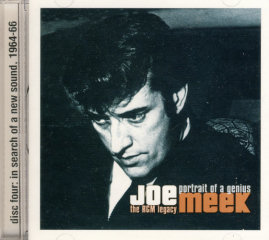 CD 4
---
Wer nach "Greatest Hits" Ausschau hält, wird mit anderen CD-Zusammenstellungen besser bedient sein als mit diesem Boxset. Dies ist eine Sammlung für Spezialisten.
Hochinteressant ist die CD 1, die quasi "nebenher" einen Einblick in die britische Unterhaltungsmusik der fünfziger und frühen sechziger Jahre gibt; hier sind einige Aufnahmen zu hören, die zwar Hits in Großbritannien waren, außerhalb der Insel jedoch unbekannt blieben. Die drei anderen CDs enthalten gleichermaßen bekanntes wie auch unbekanntes Material. Hervorzuheben ist die Aufeinanderfolge der Telstar-Demos, die die Entstehung des Stücks von der Idee zur Ausführung dokumentieren. Etliche Aufnahmen machen allerdings deutlich, dass der Vorrat an hörenswertem noch unveröffentlichtem Material allmählich zur Neige zu gehen scheint.
Für Fans besonders interessant ist der Vergleich der originalen und der deutschen Version von Have I The Right (CD 4, Tracks 8 und 9): Joe Meek hat das legendäre Trampeln auf der Holztreppe, die starke Beschleunigung und die massive Kompression des englischen Originals erst hergestellt, nachdem die eigentliche Aufnahme bereits fertig war. Für die deutsche Version wurde das Playback in seiner Grundform verwendet, so dass der Aufnahme genau diese Nachbearbeitung fehlt. Man hat hier also die einzigartige Gelegenheit, zu hören, wie die Band ohne Meeks Markenzeichen klingt. Der Unterschied ist frappierend. (Mehr Info zu der Aufnahme hier.)
Die über die CDs verstreuten drei "Monologues" enthalten Erklärungen Joe Meeks zu biographischen und technischen Themenbereichen; leider in sehr schlechter Tonqualität. Meek hat sie 1962 für einen Journalisten aufgenommen, der für eine Studio-Fachzeitschrift einen Artikel über ihn schreiben wollte. Der Artikel ist nie erschienen. Es existiert noch ein vierter Monolog, der hier fehlt. Er ist zu finden auf der "Special Edition" der CD I Hear A New World (siehe hier) .
Alle Stücke sind klangrestauriert worden, leider nicht immer zu ihrem Vorteil.
If you're looking for "Greatest Hits", there are better CD compilations than this box set. This is a collection for specialists.
Highly interesting is CD 1: Nearly "by the way" it offers an impression of the British light music of the fifties and early sixties; there are some recordings which were hits in Great Britain but hardly found their way beyond British borders. The other three CDs offers well-known as well as unknown material. What has to be highlighted are the Telstar demos, they are showing the composition's genesis from the idea to the final version. But there are also several recordings which are showing clearly that the stock of unreleased material which is worth a listen seems to draw to its close by degrees.
Extremly interesting for fans is a comparison between the original and the German version of Have I The Right (CD 4, tracks 8 and 9): Joe Meek added the legendary trampling on the wooden stairs, the strong speeding-up and the heavy compression after finishing the recording. For the German version the basic version of the backing tape has been used, so exactly this follow-up treatment is missed on the recording. So this is a unique opportunity to hear the sound of the band without Meek's trademarks. The difference is amazing. (More info on this recording here.)
The "Monologues" scattered over the CDs are statements by Joe Meek about biographical and technical subjects; unfortunately the sound quality is horrible. Joe Meek recorded them in 1962 for a journalist who wanted to set up an article on him for a studio journal. The article never came out. There's a fourth monologue existing which is missed here. It can be found on the "Special Edition" of the CD I Hear A New World (see here) .
The sound of all tracks has been restored, unfortunately not always to their benefit.
---
Abkürzungen / Abbreviations
(*): Meek war Balance Engineer, aber nicht Produzent der Aufnahme. / Meek was balance engineer, but not producer of the recording.
(**): RGM- bzw. Meeksville-Produktion, aber Meek war nicht selbst an der Aufnahme beteiligt. / RGM resp. Meeksville production, but no contribution of Meek himself.
(***): Demo- oder nicht fertiggestellte Aufnahme / Demo or unfinished recording
nv: Die Aufnahme wurde zu Meeks Lebzeiten nicht veröffentlicht. / The recording was not released within Meek's lifetime.
Komponisten / Composers
M: Joe Meek; D: Robert Duke (= Joe Meek); J: Peter Jacobs (= Joe Meek); W: Dandy Ward (= Joe Meek); B: Robert Baker (= Joe Meek); K: Knight (= Joe Meek & Dick Rowe); C: Crosley (= Joe Meek & Charles Blackwell); G: Geoff Goddard; A: Dave Adams; HB: Ken Howard & Alan Blaikley
---
[Home] [Joe Meek Portrait] [Complete Recordings] [Meek Compositions] [Triumph Story] [CD Discography]
[Noten/Scores] [Telstar Cover Versions] [Meek in Germany] [Literature, Documentaries etc.]
[Miscellaneous] [Links] [About] [Contact] [Sitemap]
---
© 2006 Thomas Meyer, Jan Reetze
last update: Jan 30, 2009