JOE MEEK
---
The Joe Meek Story, Vol. 5 : The Early Years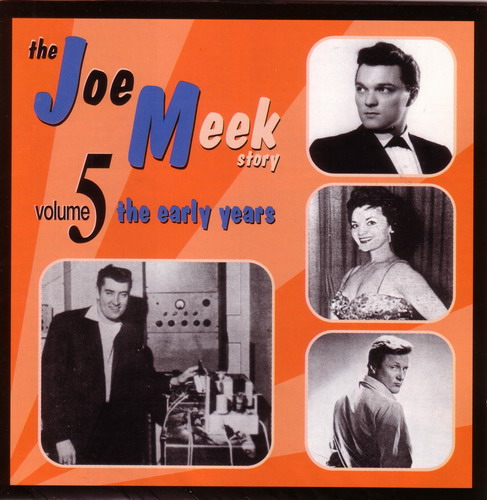 GB 1997, 1 CD. Sequel Records NEMCD 882
TT: 67'23
(Keine Verbindung zu der "Joe Meek Story"-Reihe von Line Records)
(No connection to the "Joe Meek Story" series from Line Records)
| Nr. | Interpret | Titel | Jahr |
| --- | --- | --- | --- |
| 01. | Miller, Betty | Georgia's Got A Moon (*) | 55-10 |
| 02. | Miller, Gary | Robin Hood (*) | 56-01 |
| 03. | Ryan, Marion | Cry Me A River (*) | 56-01 |
| 04. | Winstone, Eric & His Orchestra | Rhythm & Blues (*) | 56-02 |
| 05. | Hockridge, Edmund | Sixteen Tons (*) | 56-02 |
| 06. | Lotis, Dennis | Sugaree (*) | 56-03 |
| 07. | Miller, Gary | Garden Of Eden (*) | 57-01 |
| 08. | Donegan, Lonnie & His Skiffle Group | Love Is Strange (*) | 57-04 |
| 09. | Fraser, John | Bye Bye Love (*) | 57-07 |
| 10. | Seeger, Peggy | Freight Train (*) | 57-11 |
| 11. | Hicks, Colin & His Cabin Boys | Wild Eyes And Tender Lips (*) | 57-11 |
| 12. | Davies, Jackie & His Quartet | Land Of Make Believe | 57-11 |
| 13. | Miller, Gary | The Story Of My Life (*) | 58-01 |
| 14. | Donegan, Lonnie & His Skiffle Group | Mule Skinner Blues (*) | 58-04 |
| 15. | Wainer, Cherry | Cerveza (*) | 58-10 |
| 16. | Price, Red | Weekend (*) | 58-11 |
| 17. | Ellington, Ray | Charlie Brown (*) | 59-03 |
| 18. | Valentine, Dickie | Venus (*) | 59-03 |
| 19. | Amez, Chico & His Latin American Orchestra | Yashmak | 59-05 |
| 20. | Roza, Lita | Allentown Jail (*) | 59-06 |
| 21. | Miki & Griff with Donegan, Lonnie Group | Hold Back Tomorrow (*) | 59-09 |
| 22. | Ford, Emile & Checkmates | What Do You Want To Make Those Eyes At Me For | 59-10 |
| 23. | Clark, Petula | Dear Daddy (*) | 59-11 |
| 24. | MacBeth, David | Mr. Blue (*) | 59-10 |
| 25. | Fortune, Lance | This Love I Have For You (*) | 60-04 |
Eine Kollektion von Aufnahmen für Pye Records bzw. dessen Jazzlabel Nixa. Joe Meek hat an ihnen nicht als Produzent, sondern lediglich als "Balance Engineer" mitgewirkt (Ausnahmen: Track 12, den er mit Charles Blackwell komponierte, sowie die Tracks 19 und 22, die Meek vermutlich co-produzierte). Trotzdem ist sein Einfluss gelegentlich hörbar, etwa in dem Pfeil-und-Bogen-Effekt in Robin Hood, der ganz sicher seine Idee war, oder dem beschleunigten Gesang der Lonnie-Donegan-Stücke. Ähnlich wie die CD 1 des "RGM Legacy" Boxsets vermitteln diese Stücke vor allem einen Eindruck der britischen Unterhaltungsmusik der mittleren und späten 50er Jahre.
A collection of recordings for Pye Records and their jazz label Nixa. Joe Meek is not involved as producer but just as "balance engineer" (except track 12 which he composed with Charles Blackwell, and the tracks 19 and 22 which were probably co-produced by Meek). Nevertheless sometimes his influence is audible, for example the bow and arrow sound in Robin Hood which without doubt was his idea, as well as the speed-up vocals of the Lonnie Donegan songs. Similar to the CD 1 from the "RGM Legacy" box set, in the first place these tracks provide an impression of the British light music of the middle and late fifties.
---
Abkürzungen / Abbreviations
(*): Meek war Balance Engineer, aber nicht Produzent der Aufnahme. / Meek was balance engineer, but not producer of the recording.
(**): RGM- bzw. Meeksville-Produktion, aber Meek war nicht selbst an der Aufnahme beteiligt. / RGM resp. Meeksville production, but no contribution of Meek himself.
(***): Demo- oder nicht fertiggestellte Aufnahme / Demo or unfinished recording
nv: Die Aufnahme wurde zu Meeks Lebzeiten nicht veröffentlicht. / The recording was not released within Meek's lifetime.
Komponisten / Composers
M: Joe Meek; D: Robert Duke (= Joe Meek); J: Peter Jacobs (= Joe Meek); W: Dandy Ward (= Joe Meek); B: Robert Baker (= Joe Meek); K: Knight (= Joe Meek & Dick Rowe); C: Crosley (= Joe Meek & Charles Blackwell); G: Geoff Goddard; A: Dave Adams; HB: Ken Howard & Alan Blaikley
---
[Home] [Joe Meek Portrait] [Complete Recordings] [Meek Compositions] [Triumph Story] [CD Discography]
[Noten/Scores] [Telstar Cover Versions] [Meek in Germany] [Literature, Documentaries etc.]
[Miscellaneous] [Links] [About] [Contact] [Sitemap]
---
© 2006 Thomas Meyer, Jan Reetze
last update: Jan 29, 2009