JOE MEEK
---
Joe Meek - Work In Progress : The Triumph Sessions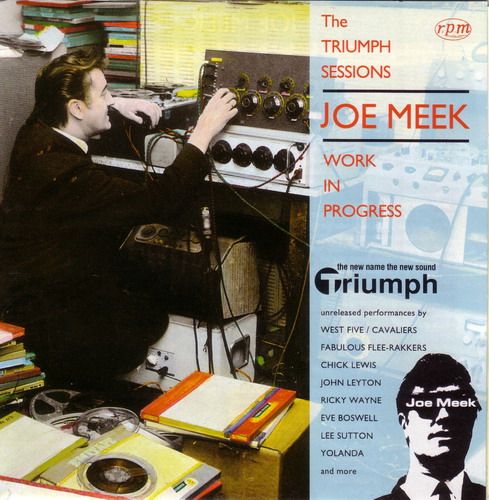 GB 1994, 1 CD. RPM Records RPM 121
TT: 71'31
Nr.
Interpret
Titel
Jahr
01.
West Five/Cavaliers
Please Don't Touch
nv
02.
West Five/Cavaliers
Til I Kissed You
nv
03.
West Five/Cavaliers
Alabama Jubilee
nv
04.
West Five/Cavaliers
Blues Stay Away From Me
nv
05.
West Five/Cavaliers
Sea Cruise
nv
06.
West Five/Cavaliers
Be Bop A Lula
nv
07.
West Five/Cavaliers
Don't You Know
nv
08.
Fabulous Flee-Rekkers
Shiftless Sam (***)
09.
Fabulous Flee-Rekkers
Some Kinda Earthquake
nv
10.
Fabulous Flee-Rekkers
Brer Robert (***)
11.
Fabulous Flee-Rekkers
Buckeye
nv
12.
Fabulous Flee-Rekkers
El Rancho Rock
nv
13.
Fabulous Flee-Rekkers
Sunday Date (***)
14.
Fabulous Flee-Rekkers
Taboo
nv
15.
Fabulous Flee-Rekkers
Summertime
nv
16.
Lewis, Chick
North Wind
nv
17.
Lewis, Chick
With Someone Like You
nv
18.
unknown
Say Baby
nv
19.
Leyton, John
Three Cute Chicks
nv
20.
Wayne, Ricky
Hot Cicka'roo (***)
21.
Boswell, Eve
Bridge Of Avignon
60-09
22.
Boswell, Eve
Hey 'round The Corner
60-09
23.
Yolanda
With This Kiss (***)
24.
Sutton, Lee
We Ain't Giving Nothing Away
nv
25.
Sutton, Lee
Keep Your Sunny Side Up
nv
26.
Meek, Joe
Valley Of/Beat Of/Waiting… (***)
27.
Meek, Joe
My Baby Doll (***)
Eine CD ausschließlich für Fans. Zu hören sind Demo- und Probeaufnahmen, die in der Zeit zwischen Sommer 1959 und Sommer 1960 entstanden sind -- zu Triumph-Zeiten oder kurz vorher also. Einige stammen aus Joes Schlafzimmerstudio in seiner Wohnung in Arundel Gardens, andere sind wahrscheinlich heimlich nachts oder am Wochenende im Lansdowne-Studio aufgenommen. Dass es Probeaufnahmen sind, ist leicht zu hören: In den meisten Fällen ist die Mischung unausgewogen; Instrumente sind zu weit im Vorder- oder Hintergrund. Eine Ausnahme bilden die beiden Aufnahmen von Eve Boswell (21 und 22), die mit Sicherheit vollgültige Versionen sind; möglicherweise sind dies sogar die in Italien auf dem Durium-Label erschienenen Aufnahmen. Hinter "unknown" im Track 18 stecken die Flee-Rekkers, die eine unbekannte Sängerin begleiten; zur Auswahl stehen Joy Adams, Carol Jones oder Pat Reader. Die CD klingt aus mit zwei von Joe selbst gesungenen (?) Demos; für das zweite verwendet er als Backing-Track eine Platte von Sandy Nelson.
A CD for fans only, containing demo and test recordings, made between summer 1959 and summer 1960 in the Triumph era or short before. Some has been recorded at Joe's bedroom studio in his flat at Arundel Gardens, others are probably recorded secretely at night or on weekends at Lansdowne Studio. The test recordings are easy to recognize: In most cases the mix is unbalanced; some instruments are too much in the foreground or background. An exception are the two recordings of Eve Boswell (21 and 22) which surely are finished, valid versions; maybe even these are the ones which were released in Italy on the Durium label. Behind the "unknown" on track 18 are the Flee Rekkers accompanying an unknown singer; it could be Joy Adams, Carol Jones or Pat Reader. The CD ends with two demos sung (?) by Joe himself; for the second one he uses a record of Sandy Nelson as backing track.
---
Abkürzungen / Abbreviations
(*): Meek war Balance Engineer, aber nicht Produzent der Aufnahme. / Meek was balance engineer, but not producer of the recording.
(**): RGM- bzw. Meeksville-Produktion, aber Meek war nicht selbst an der Aufnahme beteiligt. / RGM resp. Meeksville production, but no contribution of Meek himself.
(***): Demo- oder nicht fertiggestellte Aufnahme / Demo or unfinished recording
nv: Die Aufnahme wurde zu Meeks Lebzeiten nicht veröffentlicht. / The recording was not released within Meek's lifetime.
Komponisten / Composers
M: Joe Meek; D: Robert Duke (= Joe Meek); J: Peter Jacobs (= Joe Meek); W: Dandy Ward (= Joe Meek); B: Robert Baker (= Joe Meek); K: Knight (= Joe Meek & Dick Rowe); C: Crosley (= Joe Meek & Charles Blackwell); G: Geoff Goddard; A: Dave Adams; HB: Ken Howard & Alan Blaikley
---
[Home] [Joe Meek Portrait] [Complete Recordings] [Meek Compositions] [Triumph Story] [CD Discography]
[Noten/Scores] [Telstar Cover Versions] [Meek in Germany] [Literature, Documentaries etc.]
[Miscellaneous] [Links] [About] [Contact] [Sitemap]
---
© 2006 Thomas Meyer, Jan Reetze
last update: Jan 29, 2009