JOE MEEK
---
304 Holloway Road: Joe Meek : The PYE Years, Volume 2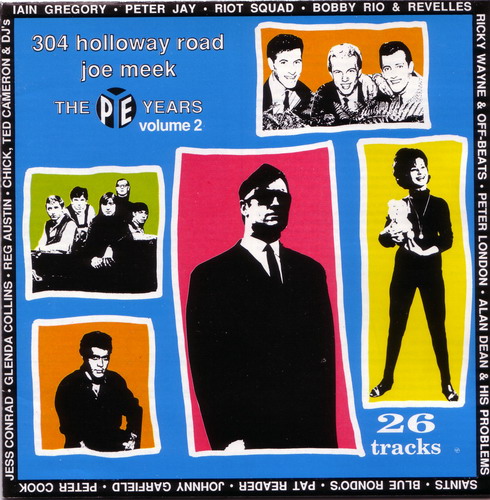 GB 1993, 1 CD. Sequel Records NEX CD 216
TT: 64'16
| Nr. | Interpret | Titel | Jahr |
| --- | --- | --- | --- |
| 01. | Gregory, Iain | Pocketful Of Dreams & Eyes Full Of Tears | 62-04 |
| 02. | Jay, Peter | Who's The Girl | 60-09 |
| 03. | Riot Squad | Bitter Sweet Love | 67-01 |
| 04. | Rio, Bobby & Revelles | When Love Was Young | 65-07 |
| 05. | Saints | Happy Talk | nv |
| 06. | Blue Rondos | Baby I Go For You | 64-11 |
| 07. | Reader, Pat | May Your Heart Stay Young Forever | 62-09 |
| 08. | Wayne, Ricky & Off-Beats | Goodness Knows | 60-09 |
| 09. | London, Peter | Baby I Like The Look Of You | 65-10 |
| 10. | Garfield, Johnny | Fickle Heart | nv |
| 11. | Dean, Alan & His Problems | As Time Goes By | 65-02 |
| 12. | Saints | Midgets | 63-07 |
| 13. | Chick with Cameron, Ted Group & DJ's | Cool Water | 60-09 |
| 14. | Wayne, Ricky | Rescue Me | nv |
| 15. | Gregory, Iain | The Night You Told A lie | 60-11 |
| 16. | Riot Squad | Try To Realize | 66-07 |
| 17. | Conrad, Jess | It Can Happen To You | 65-05 |
| 18. | Cook, Peter | There And Bach Again | 65-04 |
| 19. | Collins, Glenda | Sing c'est la vie | 66-11 |
| 20. | Garfield, Johnny | Stranger In Paradise | 65-01 |
| 21. | Rio, Bobby & Revelles | I'm Not Made Of Clay | 65-10 |
| 22. | Blue Rondos | What Can I Do | 65-04 |
| 23. | Saints | Parade Of Tin Soldiers | nv |
| 24. | Austin, Reg | My Saddest Day | 65-06 |
| 25. | Carter-Lewis & Southerners | Two Timing Baby (*) | 61-12 |
| 26. | Carter-Lewis & Southerners | Tell Me | 62-?? |
Einige weitere Veröffentlichungen Joe Meeks auf dem Pye-Label, diesmal ergänzt um ein paar bislang unveröffentlichte Stücke eher seltsamer Art. Etliche der Aufnahmen sind hörbar vom Originalvinyl überspielt worden; auf klangliche Restaurierung hat man verzichtet. Der Klang ist daher sehr dicht am alten Single-Sound, und das funktioniert gut.
Some more Joe Meek releases on the Pye label, this time added with some previously unreleased tracks of the more strange kind. Several of the reordings are audibly rerecorded from the original vinyls; there's no sound restauration used. The sound is close to the old singles, and it works well.
---
Abkürzungen / Abbreviations
(*): Meek war Balance Engineer, aber nicht Produzent der Aufnahme. / Meek was balance engineer, but not producer of the recording.
(**): RGM- bzw. Meeksville-Produktion, aber Meek war nicht selbst an der Aufnahme beteiligt. / RGM resp. Meeksville production, but no contribution of Meek himself.
(***): Demo- oder nicht fertiggestellte Aufnahme / Demo or unfinished recording
nv: Die Aufnahme wurde zu Meeks Lebzeiten nicht veröffentlicht. / The recording was not released within Meek's lifetime.
Komponisten / Composers
M: Joe Meek; D: Robert Duke (= Joe Meek); J: Peter Jacobs (= Joe Meek); W: Dandy Ward (= Joe Meek); B: Robert Baker (= Joe Meek); K: Knight (= Joe Meek & Dick Rowe); C: Crosley (= Joe Meek & Charles Blackwell); G: Geoff Goddard; A: Dave Adams; HB: Ken Howard & Alan Blaikley
---
[Home] [Joe Meek Portrait] [Complete Recordings] [Meek Compositions] [Triumph Story] [CD Discography]
[Noten/Scores] [Telstar Cover Versions] [Meek in Germany] [Literature, Documentaries etc.]
[Miscellaneous] [Links] [About] [Contact] [Sitemap]
---
© 2006 Thomas Meyer, Jan Reetze
last update: Jan 29, 2009