JOE MEEK
---
Joe Meek:
The Musical Adventures Of...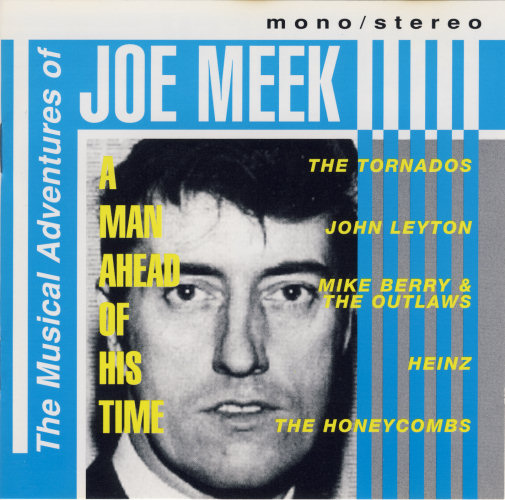 GB 1994, 1 CD. Kenwest Music Records KNEWCD 746
TT: 43'33
Nr./Interpret
Titel
Jahr
01. Lance Fortune
02. Fabulous Flee-Rakkers
03. Michael Cox
04. John Leyton
05. Mike Berry
06. Moontrekkers
07. John Leyton
08. Tornados
09. Mike Berry
10. Houston Wells
11. Heinz
12. Honeycombs
13. Blue Rondos
14. Cryin' Shames
15. Screaming Lord Sutch
16. Tornados
Be Mine
Green Jeans
Angela Jones
Johnny Remember Me
Tribute To Buddy Holly
Night Of The Vampire
Son This Is She
Telstar
Don't You Think It's Time
Only The Heartaches
Just Like Eddie
Have I The Right
Little Baby
Please Stay
'til The Following Night
Ridin' The Wind (US version)
1960
1960
1960
1961
1961
1961
1961
1962
1962
1963
1963
1964
1964
1966
1961
1963
Eine CD mit vielen RGM-Hits, interessant die erste CD-Veröffentlichung der US-Version von Ridin' The Wind.
A CD with many RGM hit records, interesting is the first CD release of the US version of Ridin' The Wind.
---
Abkürzungen / Abbreviations
(*): Meek war Balance Engineer, aber nicht Produzent der Aufnahme. / Meek was balance engineer, but not producer of the recording.
(**): RGM- bzw. Meeksville-Produktion, aber Meek war nicht selbst an der Aufnahme beteiligt. / RGM resp. Meeksville production, but no contribution of Meek himself.
(***): Demo- oder nicht fertiggestellte Aufnahme / Demo or unfinished recording
nv: Die Aufnahme wurde zu Meeks Lebzeiten nicht veröffentlicht. / The recording was not released within Meek's lifetime.
Komponisten / Composers
M: Joe Meek; D: Robert Duke (= Joe Meek); J: Peter Jacobs (= Joe Meek); W: Dandy Ward (= Joe Meek); B: Robert Baker (= Joe Meek); K: Knight (= Joe Meek & Dick Rowe); C: Crosley (= Joe Meek & Charles Blackwell); G: Geoff Goddard; A: Dave Adams; HB: Ken Howard & Alan Blaikley
---
[Home] [Joe Meek Portrait] [Complete Recordings] [Meek Compositions] [Triumph Story] [CD Discography]
[Noten/Scores] [Telstar Cover Versions] [Meek in Germany] [Literature, Documentaries etc.]
[Miscellaneous] [Links] [About] [Contact] [Sitemap]
---
© 2006 Thomas Meyer, Jan Reetze
last update: Jan 29, 2009