JOE MEEK
---
Jumpin' - Instrumental Diamonds Vol. 1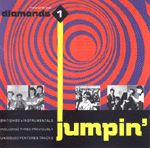 GB 1991, 1 CD. Sequel Records NEX CD 149
TT: 00'00
Nr.
Interpret
Titel
Jahr
01.
Nero & The Gladiators
Tovarich
63-00
02.
The Outlaws
Valley Of The Sioux
61-00

RGM

03.
The Shadows
Miracle
64-00
04.
The Nu Notes
Kathy
64-00
05.
The Scorpions
Torquay
61-00
06.
The Dakotas
Cruel Sea
63-00
07.
The Boys
Polaris
63-00
08.
The Fentones
Mick's Tune
nv
09.
The Nu Notes
Hall Of Mirrors
63-00
10.
The Dakotas
Magic Carpet
63-00
11.
The Krew Kats
Trambone
61-00
12.
The Planets
Jam Roll
61-00
13.
The Fentones
Gringo
nv
14.
The Scorpions
Riders In The Sky
61-00
15.
The Shadows
Back Home
61-00
16.
The Boys
Jumpin'
63-00
17.
The Krew Kats
Samovar
61-00
18.
The Cougars
Fly By Nite
63-00
19.
The Staccato's
Mainline
61-00
20.
The Planets
Chunky
60-00
21.
The Outlaws
Sioux Serenade
62-00

RGM

22.
The Fentones
Take Five
nv
Joe Meek hat nur mit den beiden Outlaws-Tracks zu tun.
Joe Meek has to do only with the two Outlaws tracks.
---
Abkürzungen / Abbreviations
(*): Meek war Balance Engineer, aber nicht Produzent der Aufnahme. / Meek was balance engineer, but not producer of the recording.
(**): RGM- bzw. Meeksville-Produktion, aber Meek war nicht selbst an der Aufnahme beteiligt. / RGM resp. Meeksville production, but no contribution of Meek himself.
(***): Demo- oder nicht fertiggestellte Aufnahme / Demo or unfinished recording
nv: Die Aufnahme wurde zu Meeks Lebzeiten nicht veröffentlicht. / The recording was not released within Meek's lifetime.
Komponisten / Composers
M: Joe Meek; D: Robert Duke (= Joe Meek); J: Peter Jacobs (= Joe Meek); W: Dandy Ward (= Joe Meek); B: Robert Baker (= Joe Meek); K: Knight (= Joe Meek & Dick Rowe); C: Crosley (= Joe Meek & Charles Blackwell); G: Geoff Goddard; A: Dave Adams; HB: Ken Howard & Alan Blaikley
---
[Home] [Joe Meek Portrait] [Complete Recordings] [Meek Compositions] [Triumph Story] [CD Discography]
[Noten/Scores] [Telstar Cover Versions] [Meek in Germany] [Literature, Documentaries etc.]
[Miscellaneous] [Links] [About] [Contact] [Sitemap]
---
© 2006 Thomas Meyer, Jan Reetze
last update: Jan 29, 2009