JOE MEEK
---
The Joe Meek Story, Vol. 1: 1960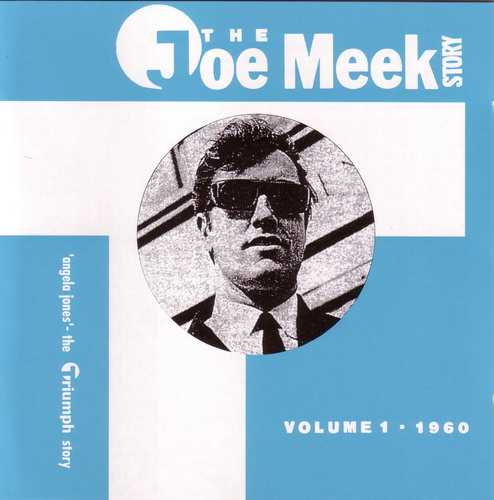 GER 1991, 1 CD. Line Records TRCD 9.01081
TT: 51'00
| Nr. | Interpret | Titel | Jahr |
| --- | --- | --- | --- |
| 01. | Jay, Peter & Blue Men | Just Too Late | 60-02 |
| 02. | Jay, Peter & Blue Men | Friendship | 60-02 |
| 03. | Rod, Ken & Cavaliers | Magic Wheel | 60-02 |
| 04. | Rod, Ken & Cavaliers | Happy Valley | 60-02 |
| 05. | Joy & Dave | Let's Go See Gran'ma | 60-03 |
| 06. | Joy & Dave | Believe Me | 60-03 |
| 07. | Yolanda | With This Kiss | 60-03 |
| 08. | Yolanda | Don't Tell Me Not To Love You | 60-03 |
| 09. | Blue Men | Entry Of The Globbots | 60-03 |
| 10. | Blue Men | Valley Of The Saroos | 60-03 |
| 11. | Blue Men | Magnetic Field | 60-03 |
| 12. | Blue Men | Orbit Around The Moon | 60-03 |
| 13. | Fabulous Flee-Rekkers | Green Jeans | 60-04 |
| 14. | Fabulous Flee-Rekkers | You Are My Sunshine | 60-04 |
| 15. | Wayne, Ricky & Flee-Rekkers | Chick-A-Roo | 60-04 |
| 16. | Wayne, Ricky & Flee-Rekkers | Don't Pick On Me | 60-04 |
| 17. | Chakiris, George | Heart Of A Teenage Girl | 60-04 |
| 18. | Chakiris, George | I'm Always Chasing Rainbows | 60-04 |
| 19. | Cox, Michael | Angela Jones | 60-05 |
| 20. | Cox, Michael | Don't Want To Know | 60-05 |
Dies ist die erste CD einer auf zehn Teile angelegten Reihe, die das deutsche Label Line Records Anfang der neunziger Jahre plante. Chronologisch sollten in dieser Reihe alle Triumph-, RGM- und Meeksville-Produktionen auf CDs zusammengefasst werden, die zu Joe Meeks Lebzeiten auf Platte erschienen waren. Leider konnte die Reihe nach Erscheinen der zweiten CD nicht mehr fortgesetzt worden. -- Dem Ohrenschein nach sind weitgehend Überspielungen von den Originalplatten verwendet worden. Das hat Charme.
This is the first CD from a ten-part series the German label Line Records planned to release in the nineties. In this series it was intended to compile in chronological order all Triumph, RGM and Meeksville productions which had been released on records during Joe Meek's lifetime. Unfortunately the series had to be cancelled after the release of Volume 2. -- Trusting one's ears it seems that to a great extent rerecordings from the original vinyls has been used. That's charming.
---
Abkürzungen / Abbreviations
(*): Meek war Balance Engineer, aber nicht Produzent der Aufnahme. / Meek was balance engineer, but not producer of the recording.
(**): RGM- bzw. Meeksville-Produktion, aber Meek war nicht selbst an der Aufnahme beteiligt. / RGM resp. Meeksville production, but no contribution of Meek himself.
(***): Demo- oder nicht fertiggestellte Aufnahme / Demo or unfinished recording
nv: Die Aufnahme wurde zu Meeks Lebzeiten nicht veröffentlicht. / The recording was not released within Meek's lifetime.
Komponisten / Composers
M: Joe Meek; D: Robert Duke (= Joe Meek); J: Peter Jacobs (= Joe Meek); W: Dandy Ward (= Joe Meek); B: Robert Baker (= Joe Meek); K: Knight (= Joe Meek & Dick Rowe); C: Crosley (= Joe Meek & Charles Blackwell); G: Geoff Goddard; A: Dave Adams; HB: Ken Howard & Alan Blaikley
---
[Home] [Joe Meek Portrait] [Complete Recordings] [Meek Compositions] [Triumph Story] [CD Discography]
[Noten/Scores] [Telstar Cover Versions] [Meek in Germany] [Literature, Documentaries etc.]
[Miscellaneous] [Links] [About] [Contact] [Sitemap]
---
© 2006 Thomas Meyer, Jan Reetze
last update: Jan 29, 2009