JOE MEEK
---
John Fitzgerald Kennedy:
Four Days That Shocked The World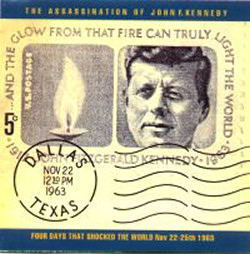 GB 1994, 1 CD. RPM Records RPM 122
TT: 00'00
Track: The Joe Meek Orchestra - The Kennedy March - 1963
Die Aufnahmen dieser CD sind aus mehr als 85 Stunden Audiomaterial über die Ermordung von John F. Kennedy, dem 35. Präsidenten der USA, am 22.11.1963 zusammengestellt worden.
The recordings on this disc are compiled from more than 85 hours of audio material about the murder of John F. Kennedy, the 35th President of The United States, on November 22nd 1963.
---
Abkürzungen / Abbreviations
(*): Meek war Balance Engineer, aber nicht Produzent der Aufnahme. / Meek was balance engineer, but not producer of the recording.
(**): RGM- bzw. Meeksville-Produktion, aber Meek war nicht selbst an der Aufnahme beteiligt. / RGM resp. Meeksville production, but no contribution of Meek himself.
(***): Demo- oder nicht fertiggestellte Aufnahme / Demo or unfinished recording
nv: Die Aufnahme wurde zu Meeks Lebzeiten nicht veröffentlicht. / The recording was not released within Meek's lifetime.
Komponisten / Composers
M: Joe Meek; D: Robert Duke (= Joe Meek); J: Peter Jacobs (= Joe Meek); W: Dandy Ward (= Joe Meek); B: Robert Baker (= Joe Meek); K: Knight (= Joe Meek & Dick Rowe); C: Crosley (= Joe Meek & Charles Blackwell); G: Geoff Goddard; A: Dave Adams; HB: Ken Howard & Alan Blaikley
---
[Home] [Joe Meek Portrait] [Complete Recordings] [Meek Compositions] [Triumph Story] [CD Discography]
[Noten/Scores] [Telstar Cover Versions] [Meek in Germany] [Literature, Documentaries etc.]
[Miscellaneous] [Links] [About] [Contact] [Sitemap]
---
© 2006 Thomas Meyer, Jan Reetze
last update: Jan 29, 2009