JOE MEEK
---
Let's Go: Joe Meek's Girls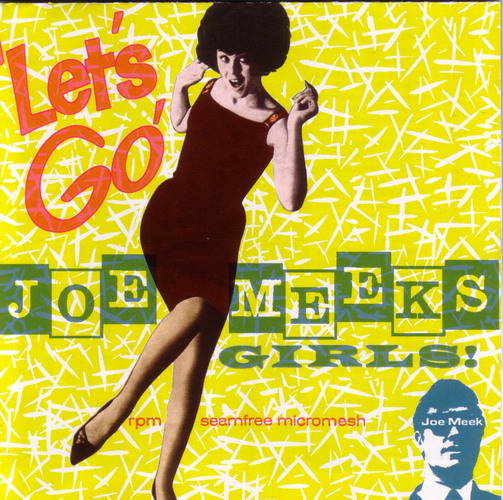 GB 1996, 1 CD. RPM Records RPM 166
TT: 71'35
| Nr. | Interpret | Titel | Jahr |
| --- | --- | --- | --- |
| 01. | Moss, Jenny | Hobbies | 63-06 |
| 02. | Blue, Pamela | My Friend Bobby | 63-10 |
| 03. | Sharades | Dumb Head | 64-01 |
| 04. | Diane & Javelins | Heart And Soul | 66-01 |
| 05. | Collins, Glenda | This Little Girl's Gone Rockin' | nv |
| 06. | Flip | Mama Didn't Lie | nv |
| 07. | Moss, Jenny | Please Don't Say Goodbye (***) | |
| 08. | Masters, Valerie | He Didn't Fool Me | 64-11 |
| 09. | Thorn, Gunilla | Merry-Go-Round | 63-11 |
| 10. | Moss, Jenny | Big Boys | 63-06 |
| 11. | Collins, Glenda | I Lost My Heart At The Fairground | 63-05 |
| 12. | Flip & Dateliners | My Johnny Doesn't Come Around Anymore | 64-11 |
| 13. | Blue, Pamela | Hey There Stranger | 63-10 |
| 14. | Roberts, Kim | Love Can't Wait | nv |
| 15. | Yolanda | With This Kiss | 60-03 |
| 16. | Lea & Chess | Little Star (Shine On Us Tonight) | nv |
| 17. | Scott, Denise & Soundsmen | Your Love Keeps Me Going | nv |
| 18. | Diane & Javelins | Who's The Girl | 66-01 |
| 19. | Moss, Jenny | Please Let It Happen To Me (from movie "Live It Up") | 63-12 |
| 20. | Thorn, Gunilla | Go On Then | 63-11 |
| 21. | Masters, Valerie | Christmas Calling | 64-11 |
| 22. | Flip & Dateliners | Listen To Me | 64-11 |
| 23. | Yolanda | Don't Tell Me Not To Love You | 60-03 |
| 24. | Collins, Glenda | Baby It Hurts | 64-04 |
| 25. | Sharades | Boy Trouble | 64-01 |
| 26. | Moss, Jenny | My Boy Comes Marching Home | nv |
| 27. | Roberts, Kim | Mr. Right | nv |
| 28. | Joy & Dave | Let's Go See Gran'ma | 60-03 |
| 29. | Dee, Diana | Cry My Heart | nv |
Eine (fast) durchgehend gelungene Sammlung von Meek-Produktionen mit Sängerinnen und weiblichen Gesangsgruppen. Einige der Aufnahmen sind Halbfertigprodukte; einige Titel blieben zu Joe Meeks Lebzeiten unveröffentlicht (und in manchen Fällen fragt man sich auch hier wieder weshalb). Die CD enthält mit My Friend Bobby einen von Joes anrührendsten Todessongs, mit Christmas Calling eine wahrhaft herzerwärmende Weihnachtsschnulze, und Please Let It Happen To Me kann man nur schwer anhören, ohne im Text Joes eigene Wunschphantasien wahrzunehmen.
A (nearly) continuously excellent collection of Meek productions with female singers and vocal groups. Some of the recordings are semi-finished; some other tracks remained unreleased within Joe's lifetime (and in some cases again one would like to know why). With "My Friend Bobby" the CD includes one of Joe's most touching death songs, with "Christmas Calling" there's a real heartwarming christmas tearjerker, and the lyrics from "Please Let It Happen To Me" can hardly be listened to without seeing Joe's own pie in the sky.
---
Abkürzungen / Abbreviations
(*): Meek war Balance Engineer, aber nicht Produzent der Aufnahme. / Meek was balance engineer, but not producer of the recording.
(**): RGM- bzw. Meeksville-Produktion, aber Meek war nicht selbst an der Aufnahme beteiligt. / RGM resp. Meeksville production, but no contribution of Meek himself.
(***): Demo- oder nicht fertiggestellte Aufnahme / Demo or unfinished recording
nv: Die Aufnahme wurde zu Meeks Lebzeiten nicht veröffentlicht. / The recording was not released within Meek's lifetime.
Komponisten / Composers
M: Joe Meek; D: Robert Duke (= Joe Meek); J: Peter Jacobs (= Joe Meek); W: Dandy Ward (= Joe Meek); B: Robert Baker (= Joe Meek); K: Knight (= Joe Meek & Dick Rowe); C: Crosley (= Joe Meek & Charles Blackwell); G: Geoff Goddard; A: Dave Adams; HB: Ken Howard & Alan Blaikley
---
[Home] [Joe Meek Portrait] [Complete Recordings] [Meek Compositions] [Triumph Story] [CD Discography]
[Noten/Scores] [Telstar Cover Versions] [Meek in Germany] [Literature, Documentaries etc.]
[Miscellaneous] [Links] [About] [Contact] [Sitemap]
---
© 2006 Thomas Meyer, Jan Reetze
last update: Jan 29, 2009