JOE MEEK
---
Ritchie Blackmore:
Take It ! - Sessions 63/68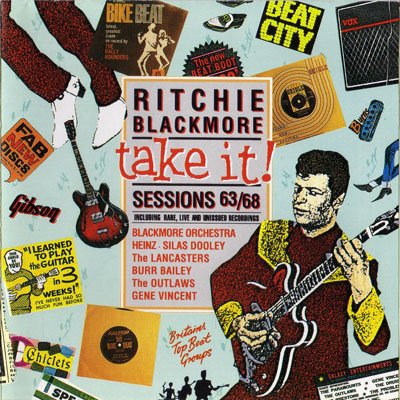 GB 1994, 1 CD. RPM Records RPM 120
TT: 55'29
Nr.
Interpret
Titel
Komponist
Jahr
01.
The Outlaws
Shake With Me
J
64-04

RGM

02.
Rally (Raleigh) Rounders
The Bike Beat Part 1 (aka The Outlaws)
unknown
64-00

RGM

03.
Rally (Raleigh) Rounders
The Bike Beat Part 2 (aka The Outlaws)
unknown
64-00

RGM

04.
Gunilla Thorne & Outlaws
Go On Then
M
63-11

RGM

05.
Michael Cox & Outlaws
I've Been Thinking
Burnette
63-10

RGM

06.
Houston Well & Outlaws
Living Alone
Wells
64-05

RGM

07.
Houston Well & Outlaws
Galway Bay
Colahan
64-05

RGM

08.
Gene Vincent & Outlaws
Dance To The Bop (live)
Floyd/Edge
63-00
09.
Gene Vincent & Outlaws
Catch Me A Rat (live)
unknown
63-00
10.
The Outlaws
As Long As I Live (live)
Hodges
63-00
11.
The Outlaws
Only For You
Thomas/Groom
65-00
12.
Heinz & Outlaws
I Get Up In The Morning
M
63-10

RGM

13.
Davy Kaye
A Fool Such As I
Trader
64-03

RGM

14.
Jess Conrad
It Can Happen To You
M
65-05

RGM

15.
Burr Bailey & The Six-Shooters
Like A Bird Without Feathers
M/Lawrence
63-06

RGM

16.
Silas Dooley Jr.
The Birds & The Bees
M/A
nv

RGM

17.
Silas Dooley Jr.
Something At The Bottom Of The Garden
M/A
nv

RGM

18.
Ritchie Blackmore Orchestra
Getaway
Blackmore/Hodges
65-00
19.
Ritchie Blackmore Orchestra
Little Brown Jug
Blackmore/Hodges
65-00
20.
The Lancasters

Satan's Holiday

Fowley/Lawrence/
Blackmore/Phelge
65-00

21.
The Lancasters
Earthshaker
Fowley/Blackmore
65-00
22.
The Sessions
Let Me In
Dallon
65-00
23.
Ronnie Jones
Satisfy My Soul
Wilson/Oliver
66-00
24.
Boz
Down In The Flood
Dylan
68-00
Eine gute Zusammenstellung der frühen Schaffensphase des jungen Ritchie Blackmore, bevor er später als Gitarrist die treibende Kraft bei Deep Purple wurde. Joe Meek ist nur an den RGM-Aufnahmen beteiligt.
A good compilation of the early output from the young Ritchie Blackmore, later the driving force as the guitarist of Deep Purple. Joe Meek only produced the RGM recordings.
---
Abkürzungen / Abbreviations
(*): Meek war Balance Engineer, aber nicht Produzent der Aufnahme. / Meek was balance engineer, but not producer of the recording.
(**): RGM- bzw. Meeksville-Produktion, aber Meek war nicht selbst an der Aufnahme beteiligt. / RGM resp. Meeksville production, but no contribution of Meek himself.
(***): Demo- oder nicht fertiggestellte Aufnahme / Demo or unfinished recording
(nv): Die Aufnahme wurde zu Meeks Lebzeiten nicht veröffentlicht. / The recording was not released within Meek's lifetime.
Komponisten / Composers
M: Joe Meek; D: Robert Duke (= Joe Meek); J: Peter Jacobs (= Joe Meek); W: Dandy Ward (= Joe Meek);
B: Robert Baker (= Joe Meek); K: Knight (= Joe Meek & Dick Rowe); C: Crosley (= Joe Meek & Charles Blackwell);
G: Geoff Goddard; A: Dave Adams; HB: Ken Howard & Alan Blaikley
---
[Home] [Joe Meek Portrait] [Complete Recordings] [Meek Compositions] [Triumph Story] [CD Discography]
[Noten/Scores] [Telstar Cover Versions] [Meek in Germany] [Literature, Documentaries etc.]
[Miscellaneous] [Links] [About] [Contact] [Sitemap]
---
© 2006 Thomas Meyer, Jan Reetze
last update: Jan 30, 2009